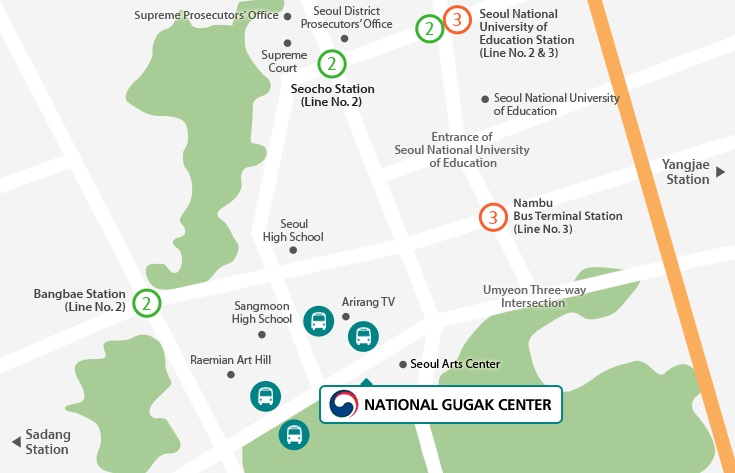 directions_carParking
Please use public transportation as much as possible for pleasant use. In case the lot is full, you might use pay lots nearby.

Audience can park 90 minitues before the concert starts.

Construction duration: from April 2019 until October, 2020.

Guide for parking lot use

Operation Time 08:00~23:00

Parking fee Free (In case the lot is full, you might use pay lots nearby on own expense. / ※ There is no cooperation between other parking lots and National Gugak Center. You will not get any parking fee discount.)

Entrance restriction The 5th-day-no-driving system applied. (Valid on Mon.- Fri., untill 18:00 / restriction not applied After 18:00 on weekdays, on weekends and Holidays)

Car with these last digits cannot use our parking lot on the day.

| Monday | Tuesday | Wednesday | Thursday | Friday |
| --- | --- | --- | --- | --- |
| 1.6 | 2.7 | 3.8 | 4.9 | 5.0 |

※ Vehicles with the designated end number are not able to park during weekdays

※ For students of cultural classes by Traditional Culture and Arts Foundation, alternative no-driving-day system is applied. (Odd number day: cars with odd number restricted / Even number day: cars with even number restricted)

Depending on the situation, the opportunity of parking may be restricted for visitors other than visitors related to performances, exhibitions or public works.
directions_busCity Bus
GGreen Bus (Local line) No. 5413 (National Gugak Center / Raemian Art Hill)

BBlue Bus (Main Line)No. 142, No. 406 (National Gugak Center / Raemian Art Hill)

RRed Bus No. 1500-2, No. M5532 (Bangbae-dong Raemian Art Hill / National Gugak Center)
directions_busExpress Bus
directions_busExpress Bus 1500-2 (Yongin - Dundang - Sadang)Get off in front of the National Gugak Center / M5532 (Osan - Sadang), Get off in front of the National Gugak Center
trainSubway
2Line No.2Bangbae Station (Turn around No. 1 Exit and next to MR. Pizza) Take thea town shuttle bus, Seocho No. 7, Seocho No. 15, or Seocho No. 17

7Line No.7Naebang Station (Exit No. 3) Take the town shuttle bus, Seocho No. 7 or Seocho No. 15

3Line No.3Nam bu terminal Station (Exit No. 5) Take the town shuttle bus, Seocho No.22